Propane is a safe, clean, and reliable fuel. Propane is also the environmental choice.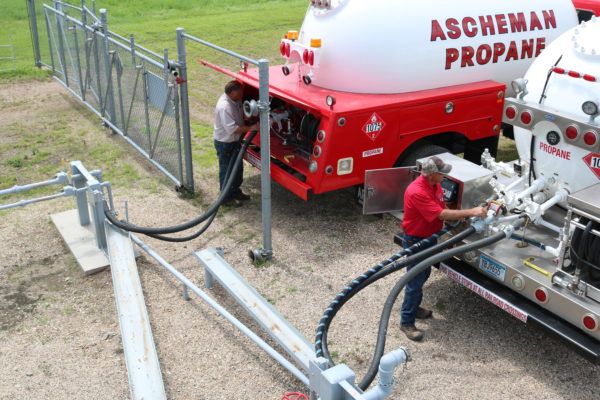 Delivery Options
Will-Call:
The will-call delivery option is for those who want to call for delivery or those who are on a cash only basis. Many people who use will-call are households who use propane for only appliances or back up heat. You are required to check your gauge and call when you are in need of a delivery. Please be sure to call when your tank is getting below 30%. Please be sure to provide a 24 hour notice for delivery to avoid any extra delivery charges, we try to accommodate you quickly but can't always guarantee same day delivery.
Automatic Delivery:
A good way to save time and have a worry free heating season, is to be on automatic delivery and you won't need to check your tank. Before the next delivery is made, your account needs to be paid in full. If your balance is not paid within 30 days of the date of delivery, you may be taken off of the Automatic Delivery Program.
Contracting:
We offer fall contracting for drying and home heating, call us in July to check out our pricing.
Budget Program:
We offer a Budget program that consists of ten equal monthly payments beginning in July thru April.
Summer fill:
Take advantage of the Summer fill, it is the best time to fill!
Who owns the tank?
In most cases, Ascheman Propane owns and maintains the tank, you as the customer own the regulators. We are the only company that can deliver propane and do maintenance on this tank. If it's a customer owned tank we would be more than happy to provide you with propane and any maintenance needed.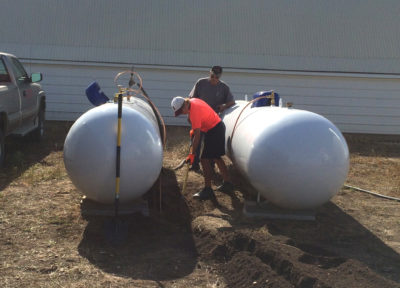 Ascheman Oil & Propane has propane cylinders, exchanges and refills available at the Station.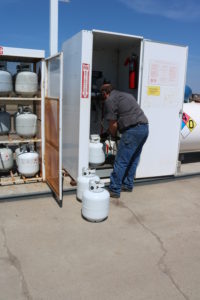 How to read a gauge:
The gauge is found on the top of the tank, under the blue lid, when the dial reaches 30%, please call Ascheman Propane for delivery at 320-567-2338.
If you ever smell propane or suspect a leak, follow these six important steps:
NO FLAMES OR SPARKS! Immediately put out all smoking materials and other open flames. Do not do anything that may cause spark or flame.

LEAVE THE AREA IMMEDIATELY!

SHUT OFF THE GAS. Turn off the main gas supply valve on your propane tank, if it is safe to do so. To close the valve turn to the right (clockwise). How to turn off your tank: https://discoverpropanemn.com/safety

REPORT THE LEAK. From a neighbor's home or other nearby building away from the gas leak, call Ascheman Oil & Propane at 320-567-2338.

DO NOT RETURN TO THE BUILDING OR AREA until your propane retailer determines that it is safe to do so.

GET YOUR SYSTEM CHECKED. Before you attempt to use any of your propane appliances, your propane retailer or a qualified service technician must check your entire system to ensure that it is leak-free.
IMPORTANT
WHEN YOU ADD, REMOVE, OR MAKE CHANGES TO YOUR PROPANE FURNACE AND APPLIANCES YOU MUST NOTIFY US WHEN COMPLETE (A GAS CHECK HAS TO BE COMPLETED TO BE SURE THERE ARE NO LEAKS). ANY SERVICE BEING DONE TO THE FURNACE OR APPLIANCES MUST BE DONE BY A PROPANE CERTIFIED TECHNICIAN.
GOPHER STATE ONE CALL-811
ANY REMODELING OR LANDSCAPE WORK-PLEASE CALL GOPHER STATE ONE CALL FOR LOCATE. ALSO PLEASE CALL ASCHEMAN PROPANE AT 320-567-2338 TO LOCATE YOUR PROPANE LINES AS GOPHER STATE ONE CALL DOES NOT LOCATE PROPANE LINES
We offer the following MSDS sheets for download. If you cannot find the MSDS sheet you are looking for please contact our main office at 1-320-567-2338.
Material Safety Data Sheets available for download in pdf format.
Propane-MSDS